Getting set for Ekiti Marathon 2022
Our aim
Ekiti Marathon is a platform for sweaty change-makers to collaborate, run, walk, trek, hike, bike, and raise funds to promote an innovative idea capable of unlocking abundance in Ekiti.
 Participation can be done from anywhere in the world.
The marathon aims to STIMULATE AND ATTRACT INVESTMENTS INTO sustainable, innovative solutions and business ideas in Ekiti  from within and across the global space; while projecting her image a hub for innovation and ommunity building and healthy lifestyle for everyone.  Our coming together isn't only to sweat for fun or prize but to help accumulate validated market for the most popular and innovative thinking among us , thus stimulating investments, innovation and economic prosperity.
Who can Participate?
To participate in the race, you could be any or all of the following:
Innovators or Entrepreneurs People of all ages interested in generating market validation or testing the acceptability of their ideas or business solutions capable of impacting in Ekii.. Using our app, you will have the opportunity to launch and share your innovation idea with a global community of sweaty change makers and ask them to run/walk/trek to support this idea or to donate or buy your products in advance. The most popular ideas or social cause with the most distance covered and the number of runners would win the innovation prize and would have the opportunity for those ideas to be funded to scale, benefiting from our professional resources.
SUPPORTERS- People of all ages interested in supporting the idea of a friend, family member or an idea they believe could potentially impact Ekiti's economy positively.
RUNNERS/WALKERS/CYCLISTS– People of all ages (Amateur or Professional runners) interested in running/walking/hiking to win the grand prize of 2,000,000 naira and other cash and non-cash weekly prizes. See more information on other prizes on our website.
FUN LOVERS, WELNESS SEEKERS -People of all ages interested in participating for Fun and personal wellness, who might want to improve their health, have fun, share their pictures, come around and join the community of sweaty changemakers. Participants in this category can also win weekly prizes.
Donors and buyers who want to see an idea become a reality or a home-grown business or social movement scale by donating or depositing in advance to buy the products or ideas that promote an abundant Ekiti.
Classes of Race
The opportunity to participate in the marathon is open to everyone across the globe. There are three categories of the race:
PHYSICAL RACE
The opportunity to win N2 Million Grand and many other prizes is opened to all Nigerians living within and outside Ekiti. The physical race comes up on November 19, 2022. In Ekiti To participate, click HERE to register.
You can also participate in both virtual and physical races.
The physical marathon consist of the:
10KM RACE
Half Marathon
21KM
Start: The starting point will be at Ifaki Town.
Finish: The finishing point will be at Olukayode Stadium, Ado Ekiti.
FLAG OFF: 9 AM
CUT OFF: 12 PM
Full Marathon
42KM
Start: Ikole Ekiti.
Finish: Olukayode Stadium, Ado Ekiti.
FLAG OFF: 6 AM
CUT OFF: 1 PM
Register for the physical marathon in advance and order for the smart watch
Campus Walk Race
Virtual Race
This is an opportunity to run, walk, hike, bike, anywhere in the world for any social cause of your choice using the virtual race App.- GOpadi , downloaded to your phone or as installed on our customized smart replica rolex watches.  Start your race today, take a selfie and share with a global community of sweaty changemakers who love Ekiti and qualify to win our weekly and grand prizes prizes. Click HERE to download .
The virtual race will start from September 2022 to November 2022 and end with the PHYSICAL MARATHON
Relay Race
This is a 3-day marathon race enlisting 16 teams representing the 16 local government council areas of the state. The route is to be decided as the date draws near.
Runners Kits
Runners in any of the two category of the Physical race would pay a sum of three thousand naira(3,000) only for kits on or before November 28th, 2022. Kits collection will be communicated through emails.
Become Ekiti Marathon 2022 Volunteer
VOLUNTEERS ARE NEEDED NATION WIDE TO JOIN OUR TEAM 
CALL OR WHATSAPP 08063768743 TO JOIN NOW.
You can also click on the link below to register.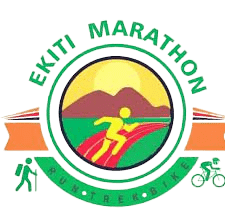 For digital and Abundant Ekiti